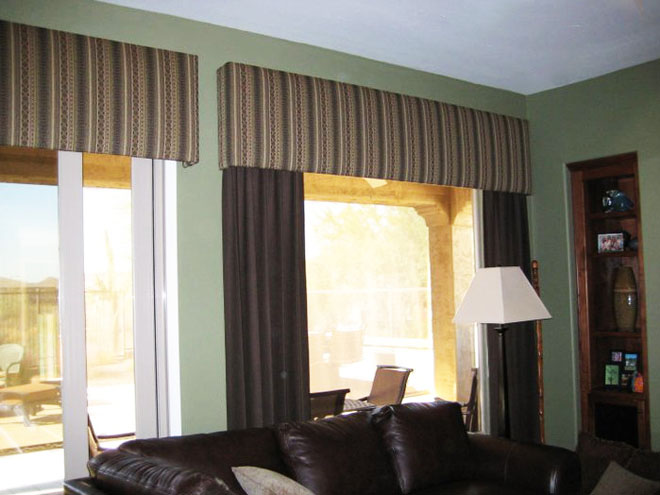 Valances and cornices are an excellent choice to finish your window treatments. With the right styles of valances and cornices, you can add a touch of class to your curtains and drapes, really bringing the room together.
Styles of Valances
Valances generally refer to a top treatment that is more unconstructed and soft rather than a cornice which is a wood frame covered with fabric. With a multitude of styles in valances you can create a dressy and romantic mood or a casual and relaxed mood for your curtains. The fabric further enhances the mood you are trying to create – from silk to linen we have got it all. Whether your valances are mounted on a board that is not seen or if your valances are hung from fabulous new medallions we can make it a one of kind treatment that fits your style and personality.
Swags are generally used in more formal spaces often with drapes underneath. They can be mounted on a board or mounted on a pole and more than one swag can be used for larger windows. Asymmetrical swags can be used on windows to frame a fireplace or a beautiful antique.
Pleated valances and tie top or tab top valances are often more casual and also can be mounted on a board or a decorative pole. Contrasting tabs or ties can add a bit of whimsy to an otherwise common valance.
Box pleat, kick pleat or corner pleat valances are a simple, yet classic way to finish off a plain window. By using decorative braid or trim you can have a beautiful, classic look. Add a contrasting pleat or band for dramatic flair or to bring in just a bit of color.
Styles of Cornices
Cornices are a great way to finish off your curtains without a lot of fuss – they are clean and simple. Depending on your choice of fabrics your cornices can be contemporary, southwestern, modern, or casual. We can help you make the right choice for your cornices to achieve the look you want. We can custom make the bottom shape to complement your personal style. Adding decorative trim or nailheads is another way to create your own unique look.
If you have windows and doors at different heights in the same room, cornices can be a great way to disguise that. By mounting them all at the same height you never know the tops underneath are different.