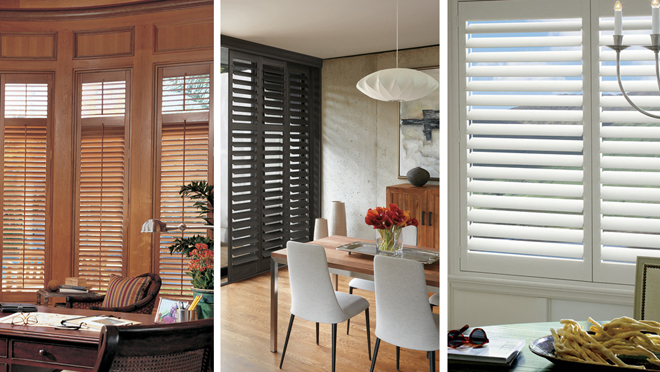 Hunter Douglas shutters are available in premium hardwood, a unique combination of wood and modern-day materials, and vinyl compounds. Nothing can beat the look of a hardwood, custom-crafted shutter. The combination is an extremely energy efficient shutter, and the vinyl is an ideal solution for windows exposed to high heat, humidity and other extreme climate conditions. All offer superior American design and craftsmanship.
Heritance Hardwood Shutters
Capturing the natural beauty of real wood, Heritance® hardwood shutters are constructed from premium hardwood and feature the centuries-old craft tradition of fine dovetail joinery combined with an innovative multiple-coat finish. They are also available with glazing and distressing finishes to complement today's most popular furniture and cabinet finishes. There are 3 louver sizes and multiple frame options to accommodate any style of window.
NewStyle Hybrid Shutters
Marking an evolutionary trend in shutters, NewStyle® hybrid shutters combine the great style of wood with the strength, stability and straightness of advanced modern day materials. This unique material is also available in a stained, grain-like finish mimicking the beauty of a natural wood. Available also in 3 louver sizes and utilizing dovetail construction, these shutters will be stylish and long lasting. The Finetech Finish coating also provides for easy, low care maintenance.
Palm Beach Polysatin Shutters
Palm Beach™ Polysatin™ shutters, made of specially formulated ultraviolet resistant poly-satin compounds, are guaranteed never to warp, fade, chip or peel, regardless of high heat or other extreme climate conditions. This is a great shutter for consumer seeking the beauty of shutters but at a value price. The DuraLux finish is scratch and dent resistant to ensure an easy care product in any home.