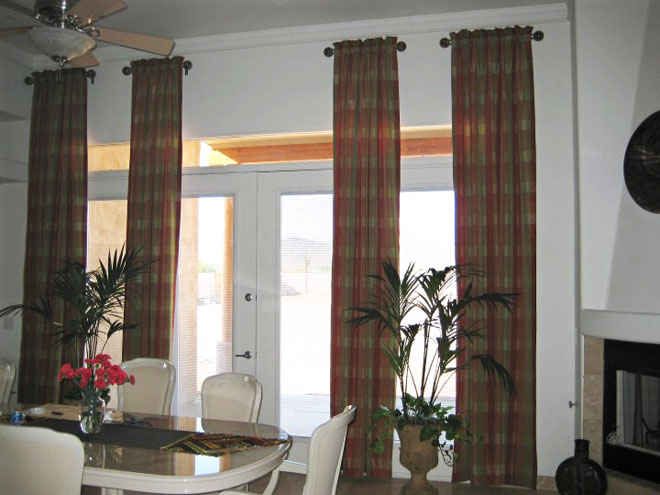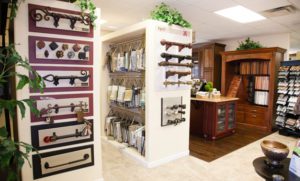 With over 35,000 fabrics to choose from for your curtains, along with expert design help and complimentary in-home consultations, we are certain you will be able to find the perfect curtains or drapes for your home.
If you are looking for simple or contemporary curtains, a clean decorative panel or grommet top drapes might be the answer.
If you're looking for luxurious and elegant curtains we might suggest silk pinch pleated drapes with beautiful swags and cascades.
If you hate drapes dragging on your floor or treatments that are "dust collectors" maybe all you need is a cornice in a textured fabric to finish off your windows. For dual purpose of privacy and decorative valance all in one, look at Roman Shade options.

Quality Custom Curtains and Drapes
Curtains and drapes are an excellent way dress up your windows while also controlling the amount of heat and light that enters a room. Curtains and drapes can also provide privacy. There are many different styles of curtains and drapes, and with our on- site drapery workroom, we can make just about anything that you can envision. Whether you want curtains or drapes with simple flat panels, or fancy pleated drapes or curtains, we can help.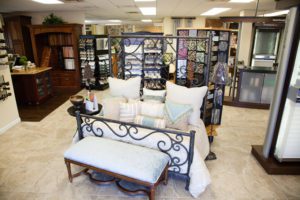 Each high quality set of our custom fabric window treatments is hand-made to order in our on-site workroom. No need to compromise on length or fullness. We have multiple lining options to regulate privacy and insulation. No matter what style or color you need for your home, we have everything on site, so that we can construct custom fabric pieces to match your style. Don't forget to think about coordinating your bedding and pillows with your new bedroom draperies too.
By having our own workroom on-site, we have the ultimate control over the finished product. It eliminates the middleman and takes out explaining the desired result to another person. That saves time, money and aggravation for our clients. There is no shipping to a national workroom and wondering what you'll get back. You will also have a one of a kind product. We rarely combine the same fabric and style for more than one customer – there are just too many options to have to redo the same thing.