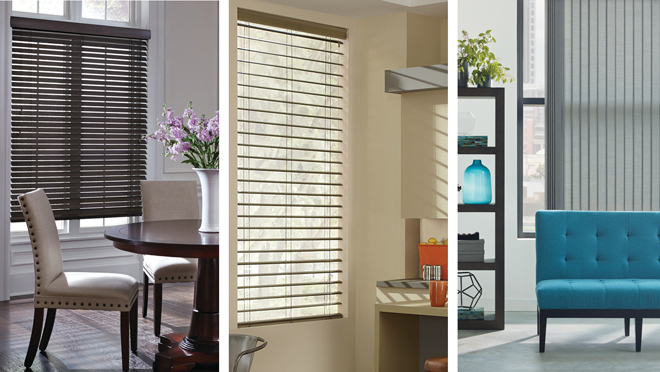 We carry a full line of Hunter Douglas Modern Precious® Metals Aluminum Blinds including , Parkland® genuine wood blinds and Everwood® alternative wood blinds. With all these choices, there is certain to be one that fits your needs. Our blinds are crafted from the finest hardwoods and finished with an exclusive coating for greater durability.
Parkland Wood Blinds
Parkland® wood blinds feature the beauty of natural hardwoods and custom, multi-step finished for the ultimate in richness and depth. The classics in 100% basswood are available in 1 3/8", 2" and 2 ½" flat slat sizes. The Reflections®, also 100% basswood, is a 2 ½" beveled slat for the ultimate in wood blinds. The genuine woods collections are made from the finest in Red Oak and American Cherry – these are available in 2" slat only. All are available with the cordless lifting system for enhanced safety for children and pets.
Bridgeview™ wood cornices with a 6" height are available in 14 colors to finish off your wood blinds or verticals with classic simplicity.
Everwood Collection – Alternative Wood Blinds
With the look and feel of real wood blinds, The EverWood® Alternative Wood Blind Collection is anything but ordinary. Our exclusive material is specially engineered for superior performance and peace of mind for years to come, so these blinds always look beautiful. We guarantee it. Now with distinct new choices and new finishes, EverWood blinds are generating more excitement than ever. Available in 2" and 2 ½" slats offering great versatility.
The EverWood Collection is the only brand of alternative wood blinds with Performance Plus™ Protection against fading, yellowing, warping and bowing. This makes it the ideal choice for humid areas or rooms that get a lot of direct sun exposure.
New Renditions finish is ideal for customers who want the effect of wood graining, the Hunter Douglas brand name, and performance at a value price.
Modern Precious Metals Aluminum Blinds
Modern Precious Metals® Aluminum Blinds offer sleek, slim aluminum slats for maximum light control and a clean, uncluttered look; our innovative Reveal® with MagnaView® feature tilt slats to twice the normal opening. Enjoy special finishes and textures, from metallic to pearlescent to matte, and a range of attractive hues. These are a great option for a more sleek and contemporary look.