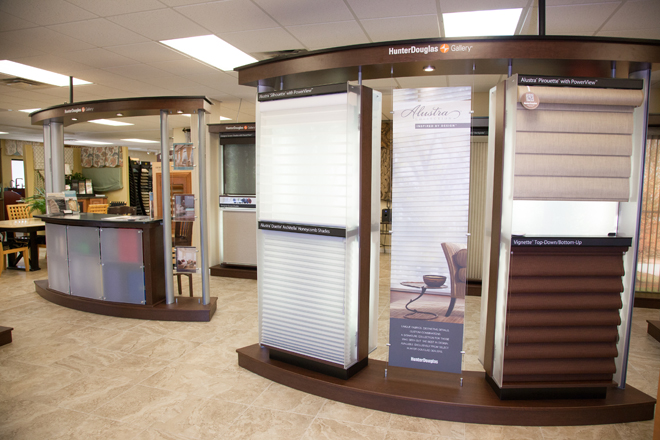 With so many different types of window treatments and window coverings today where do you begin? Are real wood blinds better than faux wood blinds? Do you need semi-opaque or blackout shades? Would curtains or drapes be better? Do you need custom draperies? Let our window treatments and window coverings experts help you make the right decision so you get the best value for your money. Keep in mind that buying cheap window treatments will cost you more in the long run when you have to replace them every few years, so buy quality window treatments and save.
Window Coverings
We have many different styles of window coverings to help you decorate your windows. Window coverings are not just decorative, they can also be functional, adding privacy and controlling light.
Drapes and curtains can dramatically change the look of your windows. With over 35,000 fabrics to choose from for your new drapes or curtains, along with expert design help and complimentary in-home consultations, we are certain you will be able to find drapes, draperies or curtains that will be the perfect finishing touch for your home.
Shades and sheers can be used to reduce or enhance the light entering a room. They also protect your furniture, flooring and art from damaging UV rays. Our shades and sheers come in a variety of soft fabrics in translucent, semi-opaque and room darkening materials.
Hunter Douglas shutters are available in premium hardwood, poly-satin compounds and vinyl. Hardwood shutters offer an enduring, custom-crafted, classic style. Faux wood shutters are affordable and durable. Vinyl shutters offer a solution ideal for windows exposed to high heat, humidity and other extreme climate conditions. Vinyl shutters are a great option for wet places, such as showers. No matter what types of shutters you need, we can help you make the right decision.
We carry a full line of Hunter Douglas blinds – from the Parkland® wood blinds to the Everwood® alternative wood collection and the Modern Precious Metal blind collection. With so many choices we can help you make the right choice for your home.
Vertical blinds are well suited for windows that are wider than they are tall and slide from side to side. Hunter Douglas is the most innovative and has created many options for sliding glass doors and other places where a vertical treatment is the best solution. More than just vertical blinds there are now Luminette® Privacy Sheers which combine a vertical with a sheer or a vertical version of a Roman shade. Panel tracks are a more modern look and work well in many of these situations as well.