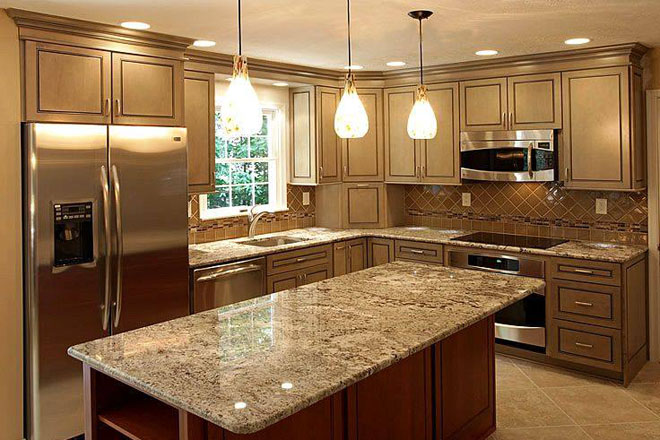 From the simplest work surface to the most complex kitchen countertops or commercial countertops, our computerized drafting technology gives us the ability to translate any idea into reality. This technology combined with a knowledgeable, experienced, staff allows Altra Home Decor to assist homeowners, architects, commercial contractors, remodel contractors, or cabinet makers with any natural or engineered stone countertops.
Granite Countertops are an excellent surface for your kitchen countertop. Granite is a solid, natural stone that stands up well to the rigors of a busy kitchen. If you are looking for beautiful new kitchen countertops that will stand the test of time, then you should look at granite countertops from Altra Home Decor.
Quartz is a wonderful material for countertops. Most quartz countertops are made of a mix of around 95 percent ground natural quartz with 5 percent polymer resins. This combination makes quartz countertops hard, low maintenance and beautiful – perfect for your new countertop.
Decorative backsplashes are trending right now and are a great way to customize your kitchen. We have a huge selection of backsplashes and can even create custom blends using a variety of metal, stone and glass.
Countertop Ideas
There are many different applications in your home for new granite, quartz or other countertops. Here are just a few ideas:
Kitchen Countertops – A new granite or quartz countertop can update the look of your kitchen.
Entertainment Areas – Countertops for entertaining, like breakfast bars or dining rooms.
Island Area – Enhance your kitchen island with a granite or quartz countertop.
Bathroom Vanities – Granite or quartz countertops can turn your old vanity into a new focal point.
Wet Bar – Give your wet bar the upscale look you want with a new countertop.
Specialty Countertops – Specialty countertops for just about any horizontal surface in your house.